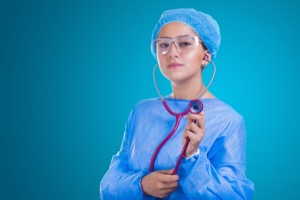 Nurses perform physically demanding jobs that require the ability to frequently lift heavy equipment, manually move patients, stand for long periods, bend/twist/kneel/stoop often throughout the day, provide assistance to doctors, and function quickly under demanding high-pressure situations.
According to the Dictionary of Occupational Titles, nurses are required to also perform administrative tasks, including maintaining records and checking vitals of patients. Some nurses have additional supervisory responsibilities. The positions are typically classified as being at least "medium" in nature, requiring nurses to exert 20 to 50 pounds occasionally.
In our experience, common medical conditions suffered by nurses include conditions related to the physical exertion that is placed on their bodies, such as:
Lumbar spine/back conditions
Degenerative disc disease
Bulging discs
Radiculopathy
Pulled muscles
Torn rotator cuffs
Shoulder impingements
Fatigue
Fibromyalgia
Chronic pain
Carpal tunnel syndrome
Conditions related to the knees
Abnormal gait
Restricted ranges of motion
Neck pain/conditions
It is important to know that ERISA disability policies typically have a two-part definition for "disability." In most policies, an insurance company initially investigates your claim to determine if you can perform your regular or own occupation. However, after receiving disability benefits for a period of time (usually 24 months), the definition of disability may change. If that happens, the insurance company is no longer determining whether you can perform your own occupation. Instead, the insurance company investigates whether you can perform any occupation. During this process, the insurance company will often find a less demanding job that it believes you can perform. Your education, training, and experience may be considered in this process. For example, once benefits have been received for 24 months, an insurance company might allege that a nurse can perform other occupations such as "Telephonic Triage Nurse," "Records Clerk," "Hospital Admitting Clerk," "Scheduler," or "Customer Service Representative." It is important to prove that your medical conditions and restrictions prevent you from performing any occupation and having evidence to support your position.
Usually, the insurance company hires a medical consultant to review your file and answer questions about your conditions and restrictions. You may not ever meet with or speak to this medical consultant. Your medical condition(s), restriction(s), and background are typically sent to the insurance company's internal vocational department to determine if you have "transferable skills" that can be applied to other jobs. Importantly, these "other jobs" do not have to be with your same employer (or any specific employer) and are often not the same occupation you performed before becoming disabled.
Every case is different and depends on the medical condition(s) involved and the terms of the disability insurance policy that applies to each claim of disability. Not every policy is the same.
If you are a nurse and your long term disability disability claim or ERISA disability claim has been wrongfully denied or you are in the process of filing a long term disability claim, contact the experienced ERISA disability lawyers and long term disability attorneys at Mehr Fairbanks Trial Lawyers at (800) 249-3731 to secure a free consultation about your rights and benefits.
This information should not be construed as legal advice or a guideline to your specific claim for benefits.